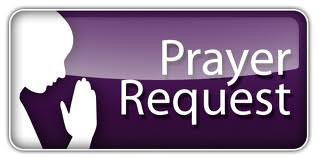 Enter your prayer requests or praise here

daughter

posted by: Angie on 10/29/2021


Please pray for my daughter. She is type 1 diabetic and has left with someone I don't know and I don't know where she is. Please pray for to be protected and come home safely.
I will pray

1 person is

praying.

Salvation

posted by: Elizabeth on 10/18/2021


Urgent prayer request for the salvation of a loved one who is Muslim. Please pray that Jesus reveals Himself to them and that they choose to follow Him. Please pray that the Lord will visit them in visions and dreams and for radical transformation. And that the love of Jesus pierces their heart. Thank you.
I will pray

Family Prayers

posted by: Tabitha Payne on 2/27/2019


Praying today for family members who are sick. Neice battling cancer and cousin who just had a stroke and has left her incapacitated. Praying for God's continued strength and upliftment to other family members who are caregivers. God has been so Good and even when things seem bleak, we should aways praise him. He is every faithful and hears our prayers. We ask that His Will be done.
I will pray

1 person is

praying.

Relationships

posted by: Virginia Robles on 5/5/2016


I just left a friendship with a man that I have known for over 13 years. I guess it was not meant to be. Only God knows. Please pray for me that I can move on from here. Thank-you Virginia Robles
I will pray

12 people are

praying.

Prayer Request

posted by: Phil Chavez on 12/24/2015


I'm 43 ,Never been in a relationship..Please Pray GOD brings me (Phil Chavez) women companion for loving relationship in JESUS Name Amen.Pray GOD brings me relationship exceedingly abundantly above what i can imagine in JESUS Name Amen
I will pray

8 people are

praying.

Please pray for Poland and our service to the God

posted by: Edmund Krzeminski on 8/28/2015


Hello, Please pray for: 0. Poland, freedom from religion to God through Jesus Christ, 0. Church in the USA - Matt. 3.12 1. stirring up the service to the God for me, my wife Dorothy, our daughter Ann, our sons Peter and Daniel - "..but as for me and my house, we will serve the Lord" Joshua 24.15 2. God's will and wisdom for me and my family; specially for learning in school for Daniel,working for Edmund, Dorothy, Peter (also God's direction for his life and understanding for him what to study or work) and Ann( Ann needs husband), 3. God's order in my work. Blessings and the knowledge of Jesus Christ for my bosses. Thank you. Edmund Krzeminski
I will pray

9 people are

praying.

Healing

posted by: Rev. JacQue Ricardson Fraizer on 4/10/2015


Please add Ms. Cindy to the prayer list she is Michaela's grandmother she's 52 and just got diagnosed with breast cancer
I will pray

10 people are

praying.

Proper Care and Well Being

posted by: annonymous on 4/8/2015


for Shirley W. who was without food for several days, for her health needs and proper care and well being of all concerning her life so that she will not suffer needlessly or not have this situation to reoccur.
I will pray

9 people are

praying.

Healing

posted by: Mary Cummings on 4/8/2015


for my eye problem and pain to be relieved ASAP, for continued healing and restoration of her total health
I will pray

8 people are

praying.

personal

posted by: annonymous on 4/8/2015


to become a home owner, to bind any negative spirits and have more positive energy around my mind, and soul; also for business entrepreneurship.
I will pray

11 people are

praying.